Happy
Friday Followers!
I want to win some cash!
Midday Escapades
told me that Toothsoap.com is going to sponsor a special GRAND giveaway exclusively for Friday Followers: three $100 prizes....cash!! Check it out: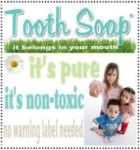 With all my giveaways and crafts and painting, I completely forgot to show you guys the cupcakes I made for my daughter's Student of the Week reign.
At my daughter's school, right around their birthday, each child gets to be Student of the Week in their classroom. As part of this wonderful celebrations, the kids fill out a book and a poster that tells all about them. They write about their hobbies, their likes, their dislikes and their favorite things. Since my daughter's favorite dinner is spaghetti, I thought it would be fun to do
Hello, Cupcake!
's Spaghetti Cupcakes and here they are:
Don't they look real? She provides such great instruction, there is no way I could screw them up. The kids loved them and my daughter loved being the center of attention:-)